Solimar is actively developing 1.6GW of early and mid-stage utility scale + storage projects
Utility-Scale Solar + Battery Storage
Solimar specializes in the development of utility-scale solar + battery projects and has over a decade of expertise in taking solar projects through each stage of the development process from site acquisition to interconnection, permitting, off-take execution, and project exit. Solimar is actively developing a growing portfolio, including approximately 1.6 GW of early and mid-stage projects in the Pacific and Mountain West regions.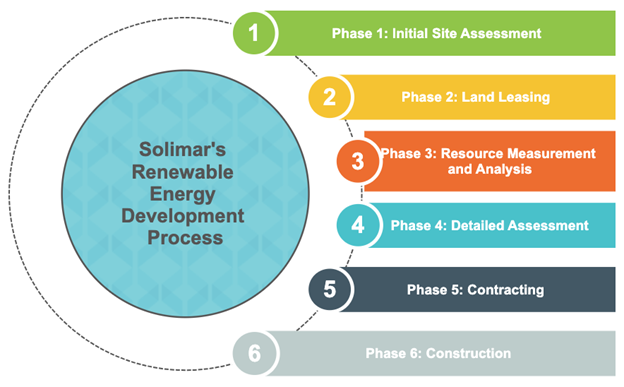 Solimar's Renewable Energy Development Process
This process incorporates six phases, beginning with an initial site assessment and ending with construction.
Phase I: Initial Site Assessment
Our work begins long before you see any solar panels installed in the ground, and often before you first hear from us. We continuously conduct research to find locations that have the right combination of consistent sun, elevation, proximity to high-voltage transmission lines, environmental suitability, compatible land use, and more.
Phase II: Land Leasing
Once we have identified a site that we believe can become a viable project, we approach the landowners to discuss a long-term lease agreement for solar rights on their property. Projects often take many years from inception to construction, so we typically seek a development term that will allow us ample time to obtain all the solar data, permits, environmental studies, and customer agreements needed to complete the project.
Phase III: Resource Measurement and Analysis
For solar projects, we also install a small meteorological station to measure the strength of the solar radiation on a site using pyranometers. Further, we measure wind speed, temperature, and rainfall, which can have an impact on the efficiency of the solar panels. In addition to on-site measurements, solar radiation information derived from satellite data plays an important role in assessing a site. This process generally takes 1–2 years and verifies the solar resource on the site, which has implications for the feasibility of the project.
Phase IV: Detailed Assessment
Along with performing resource assessments, we also evaluate all aspects of the project design. This includes a detailed environmental survey, an electrical interconnection study to determine how the project will link with the local high-voltage transmission system, and the positioning of each solar array across the site. In addition, we begin the process of obtaining all necessary federal, state, and local permits, working closely with stakeholders throughout the process.
Phase V: Contracting
Most solar projects require a contract with one or more utility or corporate partners to purchase the output from the project before proceeding to construction. In some cases, when the power market conditions are right, a project may be built as a "merchant" facility, selling power in the traded market without a long-term buyer. Solimar allocates substantial capital to the project, providing financing for the procurement of solar panels, transformers, and other equipment as well as for the entire construction process.
Phase VI: Construction
Depending on the size, technology, and location of a project, construction may take six months to two years. Construction crews build access roads to solar arrays, pour foundations and other supporting equipment, and may also construct a substation and interconnection infrastructure. In the busiest stage of construction, components are shipped to the site, and crews install the solar panels. Finally, the panels are tested and commissioned before beginning commercial operation. After construction, solar projects are expected to operate a minimum of 20–30 years.